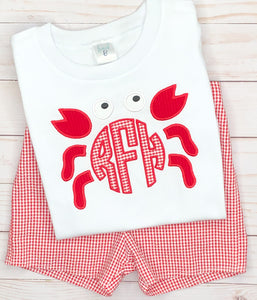 Our best selling design from last year is back. This red gingham monogram crab is a sweet appliqué with beach trips in mind.
Our white boutique shirts are the highest quality shirts on the market. They are thick & beautifully constructed. They run true to size. We recommend to size up if unsure.
Our shorts are made from beautiful, high quality, thick fabric. They have a flat band front & an elastic back. Comfortable with a great fit.
Purchase appliqué shirt only here.